The booth configurator Panoramic Studio 3d (PS3D) is an intuitive software program that lets you visualize existing configurations or create a booth that is perfectly suited to the dimensions of your space.
Once your booth design has been finalized, simply request its pricing. PS3D interfaces with our production tools for better responsiveness and transfer of information.
PS3D is free to use. We also offer our dealers free training sessions on how to use PS3D.
All of our products, just one click away
From our ultra-portable to our portable, transportable and outdoor lines, you will find all of the products from our turnkey catalog on PS3D booth configurator, allowing you to receive customized pricing in just a few seconds.
It is the ideal tool for use during customer appointments to provide them with a rendering and a budget amount.
You can use configurations from the catalog or the booth library, or you can even start from scratch and build a booth with accessories.
Test out various combinations, move elements around, add your graphics, test, and start over if needed in order to achieve your desired results.
View and save the various options (3D renderings, costing) with all of their dimensions, layouts and prices, just like a real architect!
Be your own designer: create your Panoramic h-line booth in 4 steps!
PS3D viewer : the new collaborative 3D booth design experience
Simplify project management thanks to a unique web link that can be shared with all: project managers, business developers, designers, graphic designers, assemblers
Navigate 360° and immerse yourself in the details of your design
Add your graphics online and invite your graphic designers and marketing agencies to participate
Approve your eproofs with confidence: print files uploaded to xpo.center will be shown in 3D
Share the 3D project with your assembly team and make setup a breeze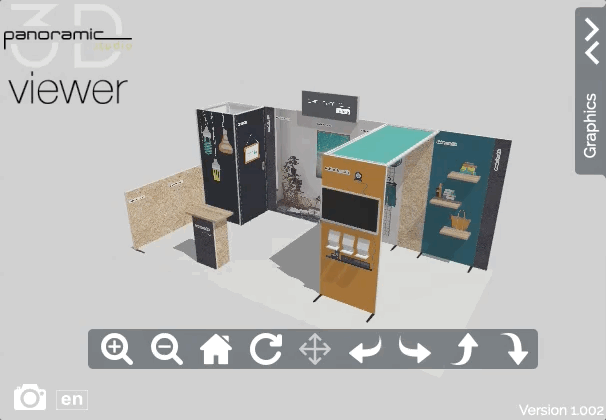 Easy access for all collaborators
Access your projects from any platform, anytime. Your link will be stored in your order history for 2 years.