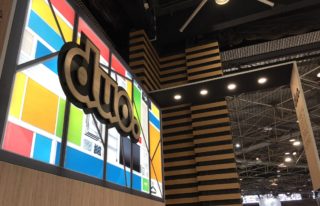 Duo @ C!Print Lyon 2019
Return on the C!Print show in Lyon 2019
C!Print took place between the 5th and 7th of February 2019. At the show, our stand was 16,4 feet high and 36 m².
Also in partnership with C!Print at the show, we designed and created the Chill Out Zone and the Relax'Box for the occasion.
We chose to illustrate the simplicity and playfulness of our modular stands both through concept and design. Using the panoramic h-line we created a box which was like a giant construction game with the modules and accessories set up inside.
But it was also an opportunity to highlight our latest innovations and developments.
The visitors were able to discover a preview of the new panoramic h-line stand with LED curtains,(40mm thick vs 87mm currently) which offers new modular possibilities, and a brighter lighting system (2000 to 5000 lux) for the same electricity use.
Sublimation printing had been specially optimized for these stands in order to create perfect colors and effective contrast . Also presented at C!Print, were our new LED Signature spotlights which offer an even and homogeneous lighting on every panel thanks to a special optical design and a width of 23,6 inches.
These 2 new products will be released with your Panoramic h-line modular stand projects from the beginning of April.
We also installed a tubular neon sign (patented!), slung 21.3 feet above our stand, as well as rigid Plexiglas panels fixed to an h-line frame.
Come and take a peek at our photo album and don't hesitate to contact our commercial manager if you have any questions !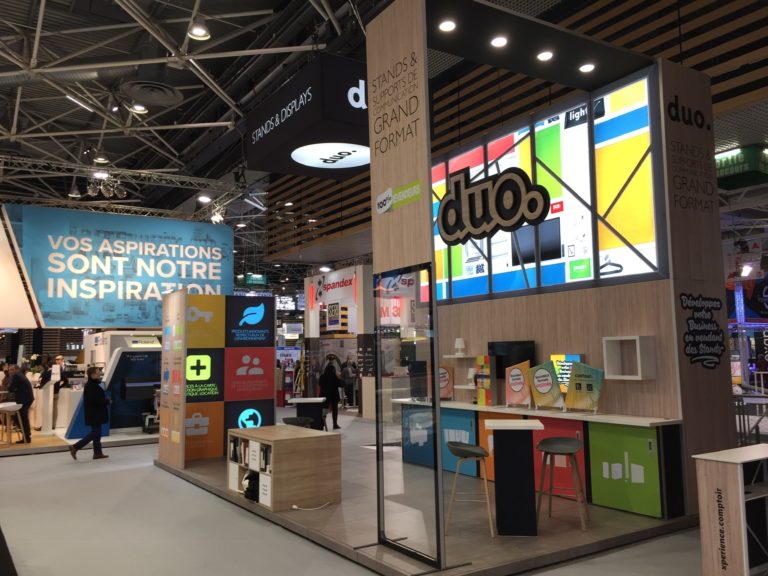 In partnership with C!Print, we designed and developed a Chill Out Zone intended for visitors looking for a break during the day. Created with panoramic h-line it was Mexican themed and featured a printed floor as well as small connected counters.
In this space we installed the Relax Box, a 9 m² box, light on the outside. Entered by a door there were 3 walls inside for 3 different ambiances : tropical jungle, beach paradise or exotic cove, backlit by a luminous velum, to ensure successful selfies.