contour, the portable, changeable and functional tubular stand solution
contour is a portable stand solution featuring a tubular aluminum structure
covered in stretch fabric.
The frame is quickly assembled without requiring any tools or extra parts.
The graphic slips over the frame like a sock and covers the frame completely
for exceptional color execution.
contour is changeable: the frames connect to each other, and optional accessories transform the frames into exhibition stands.
Lightweight and compact, contour can be taken anywhere thanks to its wheeled transport bag.
contour is the perfect exhibition stand solution for those who desire complete autonomy.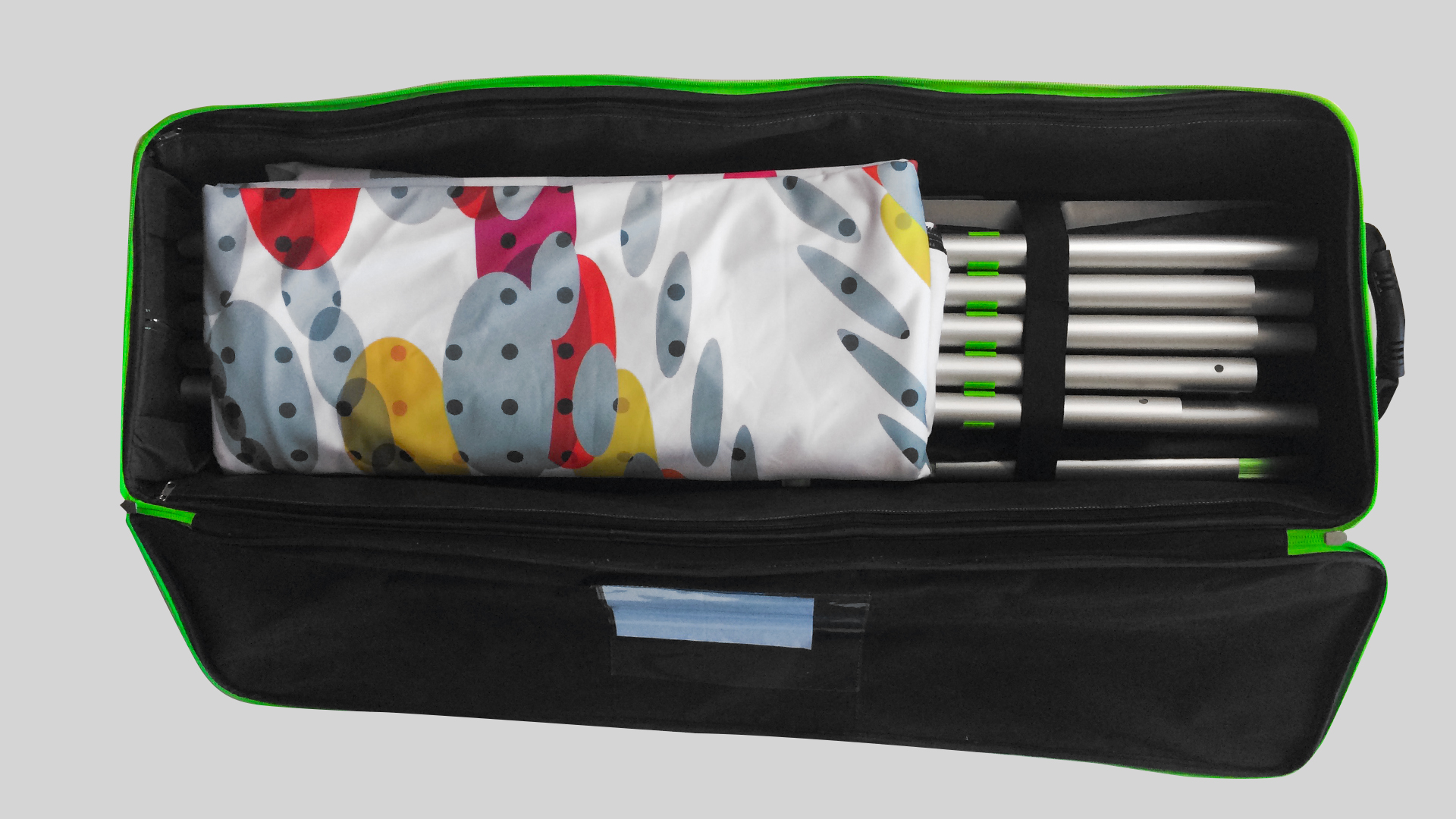 Setup as easy as 1-2-3!
A contour frame can be set up and disassembled in less than 10 minutes without requiring any tools or extra parts. The tubes interlock with connectors, and an instructional system is found on each frame for totally intuitive assembly. The graphic slips very easily over the frame like a sock. With it, you have more time to devote to your customers!
Be spectacular!
With a graphic that slips directly over the structure and covers the entire anodized aluminum frame, contour provides high-impact communication. The graphic is printed on fabric using dye-sublimation, which gives it exceptional and long-lasting color execution. The graphic may be printed single-sided, with the option of black or white reverse side, or double-sided.
Its elegant design is sure to turn heads!
Add on accessories
contour features a wide range of accessories: LED.lights, TV frame… It is possible to connect the frames together to create multiple configurations. Visit the contour stand page for more information.
Many applications
contour is the ideal solution for your events, your animations in stores and malls.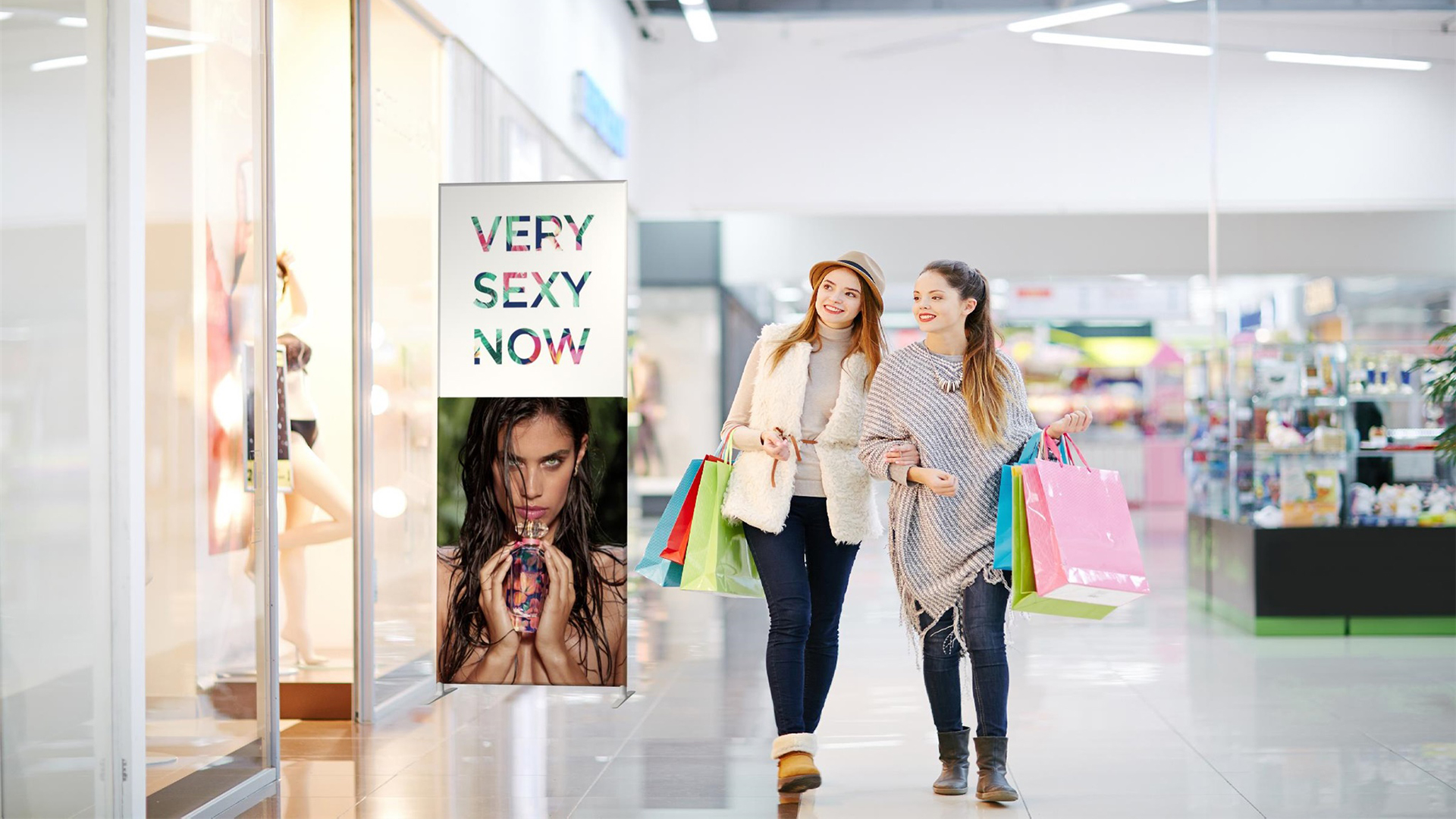 Standard formats and technical specifications
contour.3x10

contour.3x8

contour.5x8

contour.8x8

contour.10x8

contour.20x8

S-shaped curved contour 8x8

C-shaped curved contour 8x8

C-shaped curved contour 10x8





Frame
Anodized aluminum tubes: 34 mm diameter x 1,5 mm thickness.
Tubes of 1143 mm maximum.
Number of feet
2
3
5

2

Graphic
Dye-sublimation graphic printed on wrinkle-free stretch fabric.
One-sided printing with standard option of a black fabric reverse side, or optional two-sided printing.
Setup

Less than 10 minutes

Width
(frame + graphic)
900 mm
1450 mm
2340 mm
2900 mm
5800 mm

2445 mm

2382 mm

2963 mm

Height
(frame + graphic)
3200 mm
Standard height 2340 mm

2400 mm

Depth
(frame + graphic)

500 mm (feet width)

943 mm

565 mm

555 mm

Weight
(frame + graphic)
7 kg
5,2 kg
7,4 kg
8,9 kg
11,4 kg
20,7 kg

13,6 kg

17,3 kg

Transport solution
Delivered in a TRB037 wheeled bag with clips for holding tubes
Delivered in 2 TRB037 wheeled bag with clips for holding tubes

Delivered in a TRB037 wheeled bag with clips for holding tubes

Warranty
contour wave 8x8

contour wave 10x8

contour.inclined 3x8 angled

contour.inclined 8x8 angled

contour.inclined 10x8 angled

contour.inclined 5x8 tilted

contour.inclined 8x8 tilted

Frame

Anodized aluminum tubes: 34 mm diameter x 1,5 mm thickness
Tubes of 1143 mm maximum

Number of feet

0

2

Graphic

Dye-sublimation graphic printed on wrinkle-free stretch fabric.
One-sided printing with black fabric reverse side

Setup

Less than 10 minutes



Width
(frame + graphic)

2340 mm

2900 mm

900 mm
2340 mm
2900 mm
1980 mm
2810 mm
Height
(frame + graphic)

2340 mm

Depth
(frame + graphic)

541 mm

500 mm (feet width)
Weight
(frame + graphic)

10,6 kg

12,6 kg

6 kg
10 kg
11 kg
7 kg
10 kg
Transport solution

Delivered in a TRB037 wheeled bag with clips for holding tubes

Warranty

5 years